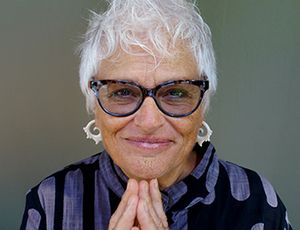 I was born within sight of the Missouri River as she flows through the Dakotas. My dad's farm land was what they call bottom land, often flooding in high rainy season leaving behind silt for rich soil.We couldn't swim in those wild waters, but I loved to sit and watch the currents flow downstream toward the Mississippi, traveling, the river singing.
My relationship to water since then is that I love to be in it, swimming, floating, diving, dreaming, praying, singing. I swim wherever I can.
Sweet and salty water. I love them both.
I have not been in canoes so much, but in the water herself. 
The canoe for me is a potent symbol of working together, finding a way, inside form like music, to agree and move as one. Canoes hold songs for many cultures.
For me, the water is the song I sing.
My book about improvisation is called The Vocal River, believing that the river knows the songs and the canoe can hold us all.
My process for teaching vocal improvisation is based on the idea that we must be solid in musical skills, develop our own intuition and be available to the mystery and grace that exist when creating music spontaneously. We make our own music in a safe and dynamic circle of singers. We each find our unique and personal sound, working alone, in pairs, and in ensemble as we meld intuition and invention with skill and heart. We delve into our bodies' truth and genius, connecting the forms of improvised and composed music and the heart of storytelling. 
We hone our skills in melody, harmony and rhythm as well as vocal tone, texture, and dynamics, stretch our intuitive courage, tell our stories, then take our voices wherever we have always wanted to go.
We are harmonizing, blending, improvising, making room for each other in this small boat—this life.
We learn how the magic of improvisation is linked to the wisdom of indigenous music.
The original stories must be remembered carefully but each particular voice brings something special so that our song moves along, always new, always holding the original. We sing our way home, over and over again, always building on shared wisdom, learning from one another and the water herself.
Fabulous ... astonishing ... playing searing, slicing, lap-style bottleneck guitar, Tuscarora tribe descendant Pura Fé blends world beat rythms with Southern blues and her own powerful vocals.  — Joel Selvin, San Francisco Chronicle
This beautiful songbird transcends time and brings the message of our Ancestors who have sewn this beautiful seed, that makes powerful music.  — Taj Mahal
My name is Pura Fé. I am from the Tuscarora Nation of North Carolina.  I grew up in New York with my family and grandparents who were originally from North Carolina, our ancestral homeland. We count eight generations of female singers through our maternal line.
I eventually moved to North Carolina to the largest native community on the east coast of the States. Approximately 70 thousand strong in Robeson County. Many Tuscarora and other tribes moved there after their removal from their original lands and villages throughout the Carolinas and Virginia. We are all "River People" living on the Lumber River...hence the name Lumbee Indians.
We have lost a lot of our ways and songs due to our early colonization. But with the help of related Tribes near and far...quite a few of us are bringing back our Songs and Dances. Our Ancestral Water Ways are our life source umbilical Bloodlines...our Family Tree that connects us all from birth to death. With this I began to dream and compose songs for our Canoe Journey and Dances...which were once an integral part of our lives.
I was also asked to bring songs to classroom workshop settings outside of my community...even teaching in universities. For me I like Canoe Songs for its teamwork and spirit connection to each other and the environment. It's a very healing experience. To my surprise it became a great source of balancing the differences between the oppressed and privileged. I learned a lot... 
Harmony and song when moving together...whether in a canoe...under the stars or in a room or by a fire...where ever. We are all in this Canoe together.  The songs I bring do not have many words. They are tones and breath and harmony... rhythm...call and response. 
Singing in a canoe with many will lift your canoe about an inch or two and glide faster. Water responds to song...intention and synchronicity of Spirit/Breath...everything!  What we give to the water is what the water will give to you.  I learned this during a canoe journey in the North West Coast... pulling 400 miles in the Puget sound. Power pulling must have song...it is food! 

Song is power... prayer and connection.
I will bring a few songs to share that we can sing together...
We simply sit together in a circle
and begin everyday with tone exercises
and learn to breath and hear each other.

We will learn the songs in pieces
and once we know them...we will
add harmony and improvisation on top.
We'll make our own vortex.
   
Pura Fé