Rhiannon at Hollyhock JULY 2023
Rhiannon looks forward to coming back to Hollyhock in 2024!!
JULY 12-17, 2024
https://hollyhock.ca/creativity-music-sound/
PLUS an evening concert with
RHIANNON and MARGIE GILLIS

Hollyhock Retreat Centre
Cortes Island B.C. Canada
for more info please contact:
​ info@hollyhock.ca and registration@hollyhock.ca 

Singing in the Vocal River
The craft, spirit and community of voice and body in improvisation
With her instructional/autobiographical book Vocal River in hand, Rhiannon returns to Hollyhock; creating music in round and resonant Raven Hall, where we meet every day in a safe and dynamic circle of singers. You will find your place in the world of song and invention. Working alone, in pairs, and in ensemble, meld intuition and invention with skill and heart. Delve into the possibilities of spontaneous composition and the language of storytelling. Strengthen harmony and rhythm, vocal tone, texture, and technique. Hear your own song and learn new ones. Meeting on the beach and in the forests of Hollyhock to listen for songlines and sing your way back to your authentic voice. For sixteen strong singers with solid, inventive skills in rhythm and pitch. You must be comfortable singing in a group setting.

The Mystery and Method of Improvisation  
Rhiannon has built her process for teaching vocal improvisation on the idea that we must be solid in musical skills, develop intuition and be available to the mystery and grace that exist when creating music spontaneously. In this class we create our own music in a safe and dynamic circle of singers. We each find our unique and personal sound, working alone, in pairs, and in ensemble as we meld intuition and invention with skill and heart. We delve into connecting the forms of spontaneously composed music and storytelling. Rhiannon's many years in the theater as well as her life in music have resulted in this being a dynamic and natural blend.

We hone our skills in melody, harmony and rhythm as well as vocal tone, texture, and dynamics, stretch our intuitive courage, tell our stories, then take our voices wherever we have always wanted to go.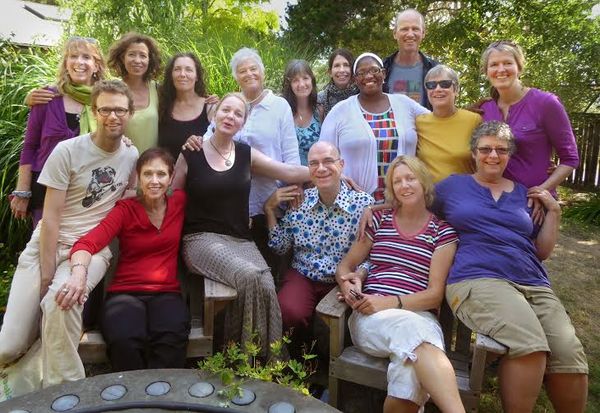 Imagine living in a world where spontaneous singing is the main organizing principle. It's a place where you live beneath the wisdom of old growth cedars, eat from abundant gardens, sleep in deep silence, swim with phosphorescence in the ocean, and learn from world-class improvising musicians. Through practicing the craft and spirit of improvised singing you and your fellow denizens become an inventive singing tribe and the music spills out to bless others in the community. This is the world you enter by joining Rhiannon's annual Hollyhock workshop.
~ Will Hewett
It was a magical journey of discovery. I'm so glad I did it. ~ Barbara Walden
 British Columbia, Canada-Cortes Island August 2012...it was an amazing and deep singing experience for all of us. I am so grateful to have been a part of that beauty at HollyHock on Cortes Island...Our singing tribe was led by master vocal improvisers Rhiannon, David Worm, and Joey Blake...what an amazing time our singing sisters and brothers had in that glorious place along side the wonderful painters who are the main subjects of this beautiful short documentary.....   the improvised singing in the garden for the painters was a very special moment in time ....I will never forget it!   ~Lori Derr